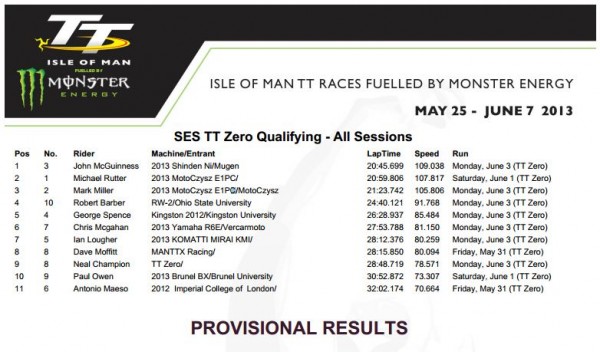 Tomorrow morning is the TT Zero at the Isle of Man TT. Above are the fastest lap times from qualifying.
Rutter, Miller and McGuinness are all faster than last years record lap time of 104.056. In McGuinness on the Mugen bike set the fastest lap around the 37+ mile mountain course shaving 1 minute over his 21:45.33 lap last year.
The TT Zero final will be run at 4:45 AM CST June 5. Be sure to get up early and watch the race. You can also catch highlights on Velocity TV if you have it.
Fastest TT Zero Qualifying Times Ahead of The June 5 TT Zero ©, .
http://plugbike.com/2013/06/04/fastest-tt-zero-qualifying-times-ahead-